BEST SERVICE
AWARD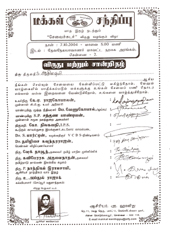 Annai illam is a registered voluntary organization started in the year of 2003 in Chennai District, Tamilnadu, India. It was legally registered under Indian Trust Act 1882 for PUblic, Social, Educational and Charitable purpose. After it was also registered with Ministry of Home Affairs, Govt of India under FCR Act and also registered with the Ministry of Finance under Income Tax Act Section 12 A, 80 G exemption.

We are very happy to express ANNAI ILLAM, is a Non-Governmental Organization working for the all round development of people of Chennai District, Tamilnadu. ANNAI ILLAM is mainly concentrate on women empowerment, child development programmes, and rehabilitation programmes for Released Bonded Labourers, Environment, Aids Awareness Programmes and Agricultural (IFS) programmes.

ANNAI ILLAM is empowered to apply for and receive grants and contribution and contributions both from individuals internal and External Agencies institutions, State and Central Government.